"Green Moneybox": How can you earn on waste?
18.10.2018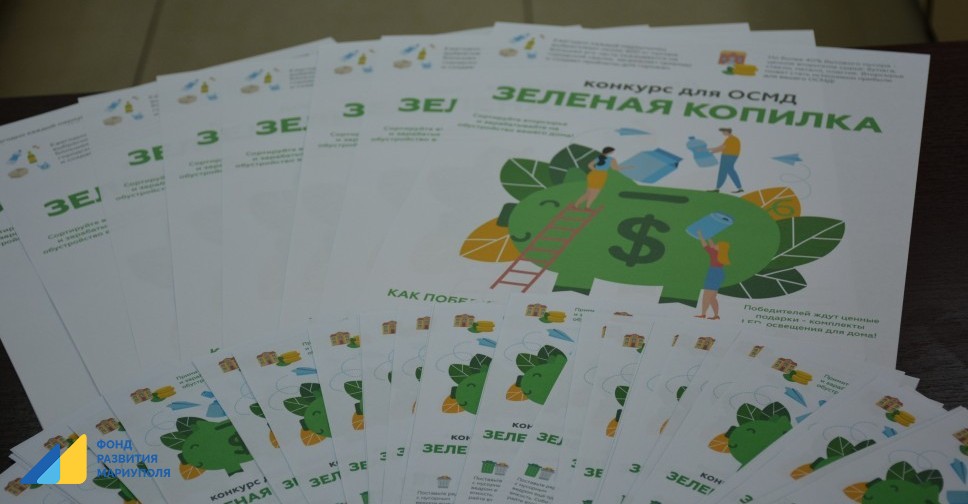 Mariupol community is preparing to restructure mentally from the garbage collection in one bucket to understanding the waste stuff, and how to turn it into benefit for all.The pilot project Green Moneybox involves condominiums of Mariupol.
"We are implementing the European experience. People unite and sort garbage. The aim of the project is to energize residents of condominiums who will compete in the collection of their garbage. The earned funds will be spent on improving their houses", - said Tetiana Lomakina, a Delegate of the Local Democracy Agency of Mariupol.
Head of the Department of Ecology and Energy Management of the Mariupol City Council, Vahagn Mnatsakanyan, believes that the pilot project will help to understand how people of Mariupol are ready to move to a National strategy for separate waste sorting.
"The Green Moneybox" can be a breakthrough for the city and an excellent tool for condominiums to earn additional funds for their development," - said Dmitrii Vizenkov, Head of the Department for Development and Support of Condominiums.
Today over 620 condominiums are registered in Mariupol. One hundred condominiums will be able to take part in the Green Moneybox filling out the form https://goo.gl/Dms7CU or calling 098 827 17 72.
"We will teach 100 condominiums how to properly sort the garbage, how to equip the sorting stations, and how to plan the next step of the waste," – said the Project Coordinator Sergey Pustovoychenko.
In addition, Sergey informed that the first 50 OSMD, which began to sort waste, will receive three 240-liter containers for sorting plastic, paper and glass. Before export of waste, condominiums must decide where to store the waste. It may be the trash cameras.
Different companies are ready to accept waste. The greater the weight, the higher the price. Therefore, condominiums will cooperate between each other. For example, Dnipro city is ready to pick up plastic 500 kg from Mariupol to the Dnipro processing plant.
It is difficult to say for sure how many condominiums will be able to earn. For example, condominiums in Kiev started with 100-200 UAH, and today they earn up to 2.5 thousand UAH and even more.
The results of the Green Moneybox will be announced in February 2019. Ten winners will be determined: 4 condominiums will be selected by maximum amount of collected resources, 4 – by the greatest amount of waste, and 2 – by promoting separate collection of garbage in social networks. Each winner will receive as a gift 5 sets of LED lighting.
The contest "Green Moneybox" is implemented by NGO Mariupol Youth Union in partnership with Mariupol City Council and Local Democracy Agency of Mariupol within the framework of the project Ukraine Confidence Building Initiative (UCBI II) financed by the US Agency for International Development (USAID).