Mariupol Logo has been Chosen!
11.09.2016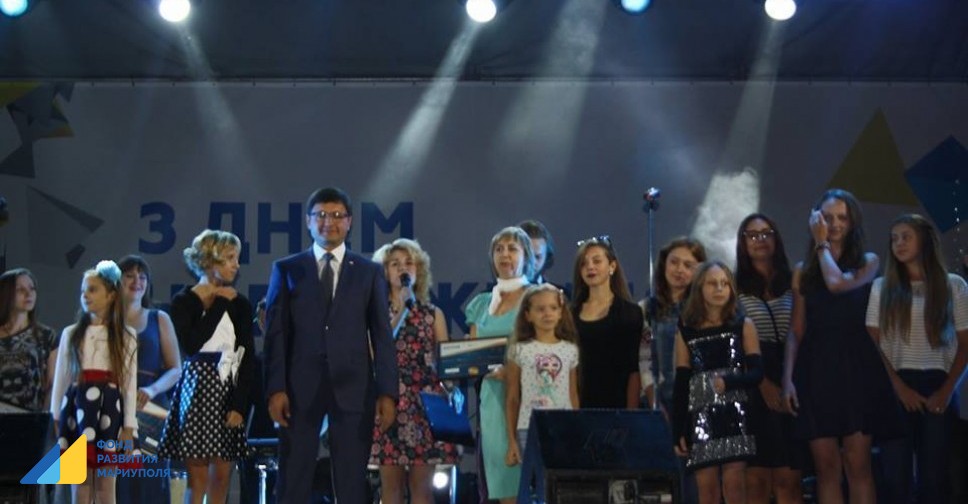 The winners of the competition for the design of Mariupol logo were awarded on the Day of the City. The team of Sergey Rodionov, who is the author of the modern, positive and bright city logo, has taken the first place. The key idea of the logo is the anchor flowing in a stream of red-hot steel.
Sergei Rodionov did not have a possibility to attend the awards ceremony. The winner's diploma and the certificate for 20 thousand UAH were handed over to his representative by Mayor Vadim Boychenko.
The second place for the city logo was awarded to the company "Why-Not Group" which can be called the leader of the children's sympathy. The team of talented developers and designers was awarded with laureate diplomas and certificates for 10 thousand UAH for their design work.
Julia Nazarenko's idea (from Bakhmut) which associates Mariupol with the seaside, with the city where people do not only work, but also relax, took the third prize. The author was awarded with a diploma and a certificate for 5000 UAH.
The tendering authorities on behalf of the NGO Mariupol Development Fund with the support of the Mariupol City Council awarded a Special Diploma to the pupils of the Mariupol School of Arts who took an active part in the logo tender!!!
We remind that the competition with an award of 35 thousand UAH started on 17th May. More than 100 authors submitted 184 applications to the contest.