Center of Administrative Services in Mariupol is a Symbol of Donbass Renewal
01.09.2016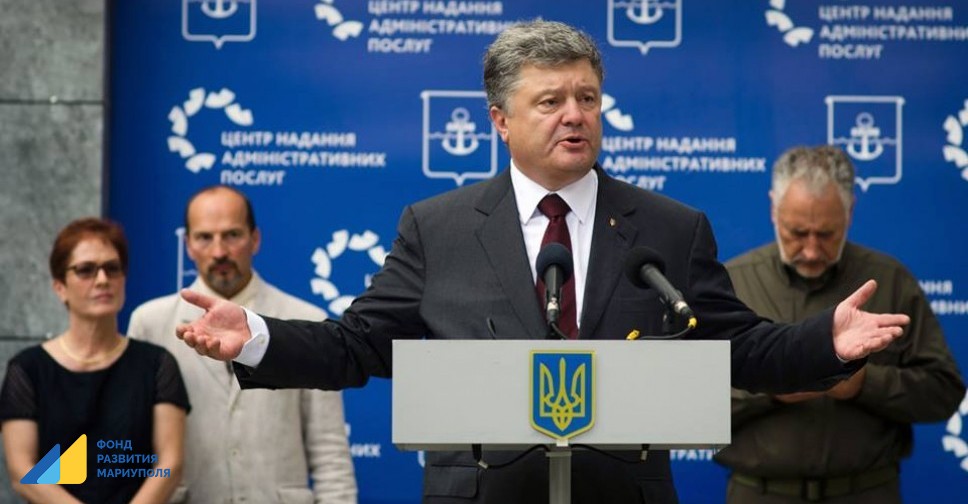 Last summer day the President of Ukraine Petro Poroshenko and the US Extraordinary and Plenipotentiary Ambassador to Ukraine, Marie Yovanovitch attended a solemn opening of the modern center of providing administrative services in Mariupol. More than seven major partners including the NGO Mariupol Development Fund, Metinvest Group funded 10 million UAH to the implementation of this large-scale project.
Such a project in Donbass is implemented in the framework of the program "New Municipality". Now highly trained specialists under the principle of the "single window" will provide professional assistance of all types of administrative services to Mariupol citizens without queues and bureaucratic delays.
"Center of Administrative services is a new symbol of Mariupol. The symbol of transparent and efficient local and state government. All offices are transparent, and I think this idea is a very needed thing", said the President visiting spacious premises with the area for children and convenient Queuing system which makes it possible to render services to more than 1,200 clients per day.
The construction of the center was completed in record-breaking time. Just within three months the redesigned building of the former cinema "Lukomorye" on Myra avenue, 107 turned into a spacious, comfortable and modern office, where the residents of the city will be able to issue biometric passports and documents, to solve the land, housing, property and many other questions efficiently, quickly and at a convenient time.
The personnel of the Center have been qualified, tested, trained, they passed exams on knowledge of the legal basis of the Program "New Municipality" elaborated by the NGO Mariupol Development Fund. They became not just consultants but employees of administrative service rendering system, aimed at providing high-quality assistance to people in the shortest period of time.
"Fifty specialists will work in the Centre of Administrative Services. They are specialists of a new format, advanced model. There is no direct contact between the official and the resident; there are just consultants who accept the documents. The documentation gets into operation, and the work on movement and delivery of the document is carried out by the center", said Mariupol Mayor Vadim Boichenko.
The multipurpose center will provide Mariupol residents more than 150 types of services. The visa center is going to operate on the basis of the center. The residents of Mariupol will be able to apply for a visa to Spain, Greece, Austria, the Czech Republic, Estonia, Lithuania, Hungary, Denmark, Slovenia and Finland, without leaving the city.
PHOTO by Eugene Sosnowski and the Mariupol City Council site